Money
10 Ways to Start Making Money Working for Yourself from Home
There are actual legitimate business opportunities online. Here are a few.
The entire internet is swarming with people who claim you can make money from home. Some claim that taking surveys will make you money, but it just is not true. SurveyJunkie amongst others have terrible reviews online and are notorious for not paying. When they do pay it boils down to .30 cents per hour.
A lot of people really want to make an income from home and want some legit ways to earn money without the 9 to 5 job. This is a list of 10 Things you can start doing today to earn money from home or working for yourself. If you're doing surveys, stop selling yourself short and begin earning real money working for yourself starting today. I have personally made money using a few of these platforms and/or have used these platforms as a customer.
Udemy - Do you like to teach? Is there something you know that others would like to learn? Udemy is an amazing platform that allows anyone to teach a course. Udemy shares your income with you. For every student who signs up for your course, Udemy takes 50% of the cost of the course and you earn the other 50%. If you look at the example below, this instructor has over 50,000 students.
‍
Yes, 50,000! The course is selling for $145, but Udemy has lots of sales, so let's say the average sale price is $40 for 50,000 students, that is $2 million dollars. If Udemy takes half, the instructor earned $1,000,000 over the life of the course. Pretty cool, huh? I can tell you that this course has been running for the past 5 years on Udemy, so an average of $200,000 per year for one course is pretty cool. Look around on Udemy and see what you find. You can teach a second language, show people how to play the guitar, or tell people how to grow their social media accounts.
Fiverr - Fiverr allows you to sell almost any service starting at $5. Most people who gig on Fiverr have a way of upselling their $5 gigs for more money. Some categories on Fiverr has gotten really crowded, but you can still earn money writing blog posts, posting ads on your social media account, writing reviews, drawing, doing voiceovers, doing videos, etc. Pretty much anything you can think of is available on Fiverr and there are people right now making money doing this as a side business.
Etsy - If you are a person who likes to work with your hands, you can earn a full-time income selling your product on Etsy. Obviously, you want to choose a product that is in high demand. Etsy allows creators of all types to sell things on Etsy. Some of the coolest stuff you can buy on the web are handmade and sold on Etsy.
Lyft - You can earn up to $35/ per hour driving for Lyft. Lyft also allows you to drive even if you don't have a car, they will rent you one for $0.00 per week! To see how much you can make, go to their website and scroll down to the "See How Much You Can Make" section and type in the number of hours you want to work per week and your city. It will calculate what your potential earnings are based on your location. When I did it, it was $800 per week for 40 hours which is pretty sweet. Some people only do it at nights, or weekends, some people have replaced their entire job with services like Lyft and Uber. You can make up to $250 in a single weekend, but Lyft allows you to drive without actually owning a car, which Uber doesn't right now
Digital Management/Marketing - If you are under 25 years old, there is no reason you shouldn't have a social media/digital marketing company. Your generation is the first generation to actually grow up on social media and a lot of older people just don't have the patience to manage the necessary social media accounts for their businesses. This includes dentists, doctors, pest control companies, real estate companies, etc. You're probably spending a lot of time on social media anyways, why not get paid for it. Business owners are willing to pay up to $1000 per month for someone to do it for them. It does take a lot of creativity. However, you already understand memes and what makes stuff go viral. Begin approaching some business owners you know and ask them if you can manage their social media account for them for a monthly fee. If you need some help getting started, this guy has a course.
Upwork - is an online platform that allows you to bid for jobs that people post. The jobs can range from typing jobs to programming jobs. Upwork is time-consuming to get work and after a few hours of bidding on jobs, you may still not get hired. However, that's what happens when you apply for a job anyways, so I guess it is the same thing. Having a good profile of past work experience and a portfolio (if applicable) is very important for getting hired on Upwork.
Zirtual - Zirtual is a place where companies can hire virtual assistants for a flat fee per month. Their model is cool and they are always hiring. You can make $13 - $18 per hour working directly from your home computer, which is really cool if you ask me. Here are a few of the things you would do.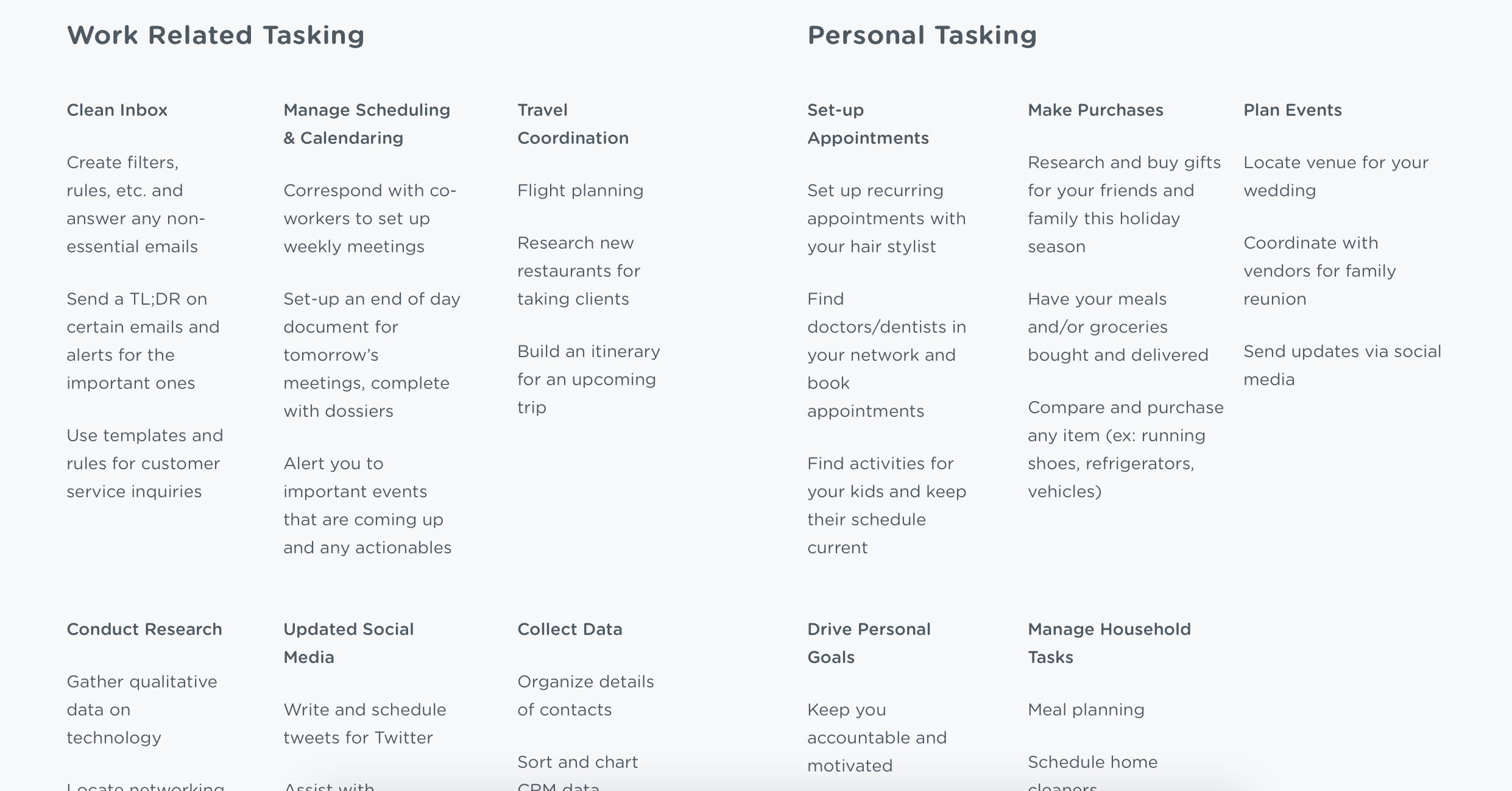 ‍
Working for them is just like filling out any other job application. Scroll to the bottom of the page where it says "Work for Zirtual", then ignore jobs for programmers and click on Virtual Assistant, then fill out the application. Like any other job, you will have to wait for a reply and an interview. However, you will be able to work from home rather than an office, which is very attractive for most people.
Thumbtack - Thumbtack is a resource to help people find local help. You can find cleaning jobs, piano lesson jobs, accounting jobs, personal training jobs, and pretty much anything that you can't have done remotely over the internet. How this works is that people tell thumbtack that they need swimming lessons, for example, thumbtack sends an email to you telling you that someone needs swimming lessons. Thumbtack will only send you alerts for services you list in your profile. Afterward, you send the person a proposal outlining what you include in your service and the amount you charge. Only 4 people are allowed to bid on each job, so the customer will choose between you and 3 other people. One thing you should know about Thumbtack is that they actually charge you to bid on each job, so choose lucrative jobs.

Task Rabbit - According to TaskRabbit customers can, "Book a top-rated handyman. From furniture assembly to TV mounting, we'll take care of your home maintenance needs." You can also do yard work, packing and moving jobs. Apply Here.
Amazon & Ebay are here in the same boat. While it is still possible to earn a decent income on both sites, it is now becoming a bit harder. However, there are a ton of people on Youtube who have videos to help you kill it on both sites and make a lot of money if you are really determined. Here is a lady who made over $50,000 selling on Amazon, Ebay and Etsy.
‍
‍
‍
More Posts
Get News Updates Delivered to Your Inbox
Plus, get our Free ebook on Charm, Boosting Self-Esteem and Success
Thank you! Your submission has been received!
Oops! Something went wrong while submitting the form